Bill Grant
---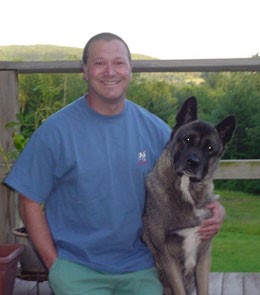 Bill has spent much of his life helping dog owners develop positive, loving relationships with their canine companions. He began his career in dog training at Canine Consulting, a nationally recognized dog training center in Massachusetts, where he trained for ten years. He relocated to Vermont in 2002 and founded his own canine training company, Ultimate Companions in southern Vermont. He and his partner share their home with 7 beautiful Akitas and attributes much of his training success to what his own dogs teach him, and to Jake, his very first dog, who led him to start teaching others about the wonders of life with their companions.
Bill has been involved in canine therapy work and has numerous published training articles. He has consulted with a variety of local and national rescue associations. He is also a member of the Akita Club of America and an active participant in the Canine Good Citizen program through the American Kennel Club.
Bill uses his expertise to train people, to train their dogs in ways that encourage a partnership that lasts for life. Through the practice of positive reinforcement he helps his human-students explore how dogs think, unlocking the opportunities for effective communication and learning. He believes that many of the issues dog parents are faced with today are a direct result of "miscommunications" between humans and their dogs. As Bill works with his clients, these lines of communication are opened in a series of easy steps, and many unwanted issues cease to exist.
Bill has been offering upbeat, dynamic, and fun canine training classes for dogs and entire families at both locations of The Crate Escape since 2009. In all of his classes, Bill's main focus is on appropriate socialization and good manners as he believes that having a good dog means having a dog that is welcome everywhere; a companion that people want to be around!
In addition to teaching group classes, Bill also offers private consultations for dogs that have specific behavioral issues that need to be addressed individually. Bill also consults with clients about overall holistic health, proper exercise, and good nutrition.
Visit Bill's website for additional information