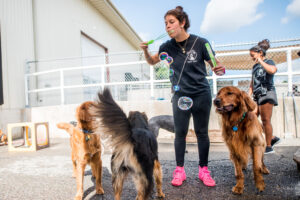 Our dogs are extremely valued members of our families and we want to give them the best care possible. When we are busy with work and home responsibilities as well as when we are away on vacation, we need to feel that they are safe and being well cared for. That's where we come in! At The Crate Escape we offer a comprehensive array of pet care services including daycare with group play, canine enrichment daycare, day boarding, overnight care, grooming, training and more.  
Our approach to dog care is not one size fits all. We realize that dogs, like people, have their own needs, likes, and dislikes. As dogs grow older the care they require also may change. With that in mind, we try our best to learn as much as we can about each dog, their unique personality traits and well-being requirements, to create a care plan that caters to the individual. 
Our focus is on providing a positive physical and emotional experience for all dogs in a fun, safe, and clean environment. We limit the number of dogs we care for each day to ensure that all individuals' needs are attended to. We take the time necessary to make all dogs as comfortable and happy as possible.
With more than 25 years of experience in the industry, you can rest assured that your dog is treated as part of our family, whether you are away from home for business or pleasure. Give us a call today to learn how we can help your dog – and you – achieve a happier, less stressful and rewarding relationship!