Doggie daycare at The Crate Escape is something all the dogs are barking about! Participation in our canine daycare program offers dogs the opportunity to express their natural behaviors in a physically and psychologically healthy atmosphere. Old or young, large, or small, we care for them all!
Dogs are individuals with their own unique character traits and wellness requirements. Our approach to dog care is not one size fits all. We realize that dogs, like people, have their own needs, likes, and dislikes. As dogs grow older the care they require also may change.
At The Crate Escape we try our best to learn as much as we can about each dog and create a care plan that caters to the individual. Your dog's unique personality traits and well-being requirements are factors that we consider, giving each dog in our care the best experience possible.
While some facilities take an unlimited number of dogs, we do not! Safety is one of our top priorities. Our service is highly personalized, and we make sure to limit our numbers so that each dog gets the attention they deserve. Smaller groupings also allow dogs that are timid and less confident the opportunity to gain confidence and flourish in a group setting. We have options for dogs of all ages, play styles, and sociability levels.
Dogs who enjoy the company of other dogs are carefully grouped with suitable playmates using our team's knowledge of dog body language to ensure mutual well-balanced play. These groups are gradually formed based on size, activity levels and personalities so that everyone has a fun-filled play day. We use positive reinforcement-based methods! No forceful interactions.
For dogs who cannot stay at home all day, and may not do well in an interactive playgroup, we offer Day Boarding where he or she:
Lounges in a private room

Has individual potty outings several times during the day

Has meals, snacks, medication, or whatever else you require for your dog's comfort

Owners can also choose any of our fun

one-on-one special services

to provide enrichment and individual attention throughout the day.
ALL-OUT-DOG! Canine Enrichment Program
Our new and unique model of daycare is offered on Wednesdays and Fridays.  Learn More 
Regular Play Daycare and Day Boarding Rates 
One dog:  $35
Two dogs: $58
Single Intact Male over 6 months: $45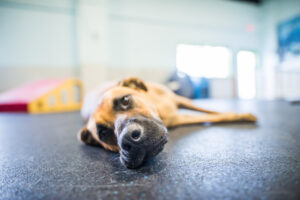 A General Outline of What Your Dog's Day Will Look Like:
First thing upon arrival: potty outing

Placement in a daycare room to settle and receive health evaluation

Groups are formed and play begins

Group potty outings

Special one- on-one activities/grooming if scheduled

Play resumes

Lunch then naptime

Potty outing

Small group play

Buddy Rest

Pick-up
Vaccinations:
Rabies, Distemper, and fecal negative within 6 months