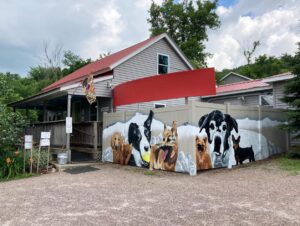 It's a dog's life! A well socialized, exercised, and engaged dog is a happy dog that is a pleasure to be around and a treasured member of the family.  In today's fast-paced world it is sometimes difficult to give them all they need while juggling our busy lives. We are here to help you do just that! We offer a wide assortment of dog care services including daycare, lodging, grooming, training and more. With 28 years of experience in the pet care industry, it is our mission to act with honesty and integrity while providing a positive, individualized experience for all dogs within a fun, safe, clean, and caring community. 
We are committed to continually evolving our business to provide top notch dog care and exceptional customer service.  We are members of The International Boarding & Pet Services Association, The Lake Champlain Regional Chamber of Commerce, and The Western Slopes Business Association. We are situated in the foothills of the Green Mountains and on the eastern edge of the Champlain Valley in beautiful Richmond, Vermont. We are just off I-89, the only Interstate highway to directly serve both Vermont's capital city (Montpelier) and largest city (Burlington), making us a convenient choice for any dog daycare or boarding needs. 
We simply love dogs and will do anything in our power to make their day or stay with us a true delight!  While in our care, you can rest assured that your dog is treated as part of our family, whether you are away from home for business or pleasure. Give us a call today to learn how we can help you with any of your dog care needs.