Make your dog's stay extra special with personalized services designed to pamper your pup and make them feel right at home! Special Services are available and recommended to add on to any or all of the days your dog spends with us to ensure they get that special "at-home" attention to spoil them while you are away.
These services are also highly recommended to those dogs that have special behavioral considerations such as separation anxiety, high-energy or social anxieties.
Available Add-On Services:
Explorer
Send them on an adventure along our beautiful wooded path on a 20-minute on-leash walk.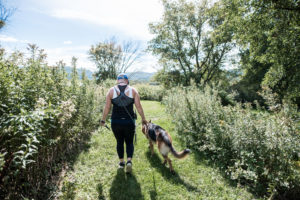 Wild Thang
Our staff and your pup play with a flirt pole, a piece of exercise equipment specifically for dogs that entices them to chase a fast moving lure.
Retriever Heaven
Tire them out with a 20-minute session of fetch in one of our fenced in yards.
Cuddle Me
Soothe and relax your pup with a snuggle session at any time of the day! This is an excellent add-on for those dogs who exhibit signs of stress.
Puzzle Time
Our staff challenges your dog to use his face, feet, and ingenuity to uncover hidden treats.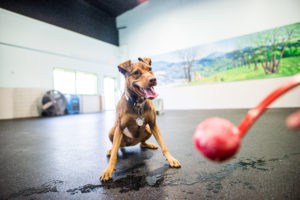 Bed-time Snack
We give your pooch your choice of a delicious Kong stuffed with dog-safe peanut butter or a specially designed Quado Bone of the appropriate size.
Bed-time Story
Tuck them in with a soothing bed time story and a kiss goodnight.
Soothing Saucer
The Soothing Saucer features a rotating ball which provides a lick of gravy with each rotation. Your dog will love the taste and soothing feeling.
Add-on Packages:
Inspector Gadget
1 Explorer and 1 Puzzle Time
Crazy Critter
1 Wild Thang and 1 Retriever Heaven
Pampered Pooch
1 Cuddle Me and 1 Bedtime Story